Investment Consulting & BOI
GERMAN LAWYERS IN THAILAND HELP:
With BOI Incentives towards Production and Services in Thailand
The Thai Board of Investment (BOI) is a Government Agency directly under the Cabinet. It promotes investors in Thailand. The BOI offers interesting privileges for investors. Foreigners are granted the same support as domestic companies.
he Board of Investment (BOI) Incentive Scheme.
Thailand offers its investors extensive tax and non-tax incentives. Among these are long-standing tax waivers and exemption from import duties on machinery and materials. In addition, it grants the right to own land and facilitates the employment of foreign experts.
The incentives are classified by numerous industries and technologies, which receive varying degrees of support.
Extra benefits, for example in the form of special depreciation allowances or extended tax exemptions, are granted to investors who earn special "Merits", such as in education of their workforce or in cooperation with local universities.
Manufacturers Benefit Most from BOI Promotion
The BOI support focuses on Foreign Direct Investment (FDI). Investors in modern industries providing a professional Business Plan may be exempted from corporate taxes entirely for up to 8 years and 50% for an additional 5 years. Customs duties on components, machinery and equipment may be eliminated.
In sum, investors in Thailand can thus import machinery and components duty-free, operate tax-free and cost-effective, and then also export their products duty-free to 16 countries including China, Korea and Japan.
The Trade & Investment Service Office (TISO) under the BOI.
The activities of the BOI-promoted TISO focus on technical services provided by foreign manufacturers directly to their Thai companies. Thus, it gives a straightforward exemption from the ban on providing technical and business services by foreigners, as it is stated in the "Foreign Business Act".
The best benefit of the TISO is for manufacturers of machinery, equipment and tools. They can legally carry out, for example, maintenance, repair and calibration of the machines supplied, along with installation and assembly, and they can also charge to Thai customers. The permission to import and resell to wholesalers is another important part of the TISO promotion.
Among the conditions for setting up a TISO are an investment of at least 1 Mio. Thai Baht, a paid-in capital of at least three Million THB and annual sales and administrative costs of at least 10 Mio. THB.
The International Procurement Office (IPO) – Duty-free Import and Trading
The IPO, which was reintroduced as a BOI incentive only in spring 2021, is meant to serve the most efficient supply of raw materials and components to Thailand's export industry. To that end, wholly foreign-owned trading companies may and shall contribute as well.
The IPO also permits foreigners to import raw materials, parts and components duty-free and then to sell them to either wholesalers or even directly to the Thai Export Industry.
This makes the IPO different from all the other incentives offered to service providers, which neither waive import duties nor allow direct supply to industrial end users.
Investors must establish a company with at least approximately €250,000 of paid-in capital, operate their own warehouse with inventory, utilize an IT-supported logistics system, and conduct typical activities for a trading company. These include, for example, quality inspection, packaging and picking. IPOs must also purchase goods from various sources, which should include local sources. 
The International Business Center (IBC) under BOI as a "Bridgehead"
The IBC under BOI promotion is permitted to provide comprehensive services to affiliated companies in and outside of Thailand. These services – among others – include business and sales planning, marketing and sales promotion. The managing director of the IBC enjoys significant reductions on personal income tax and, upon application, is granted a 10-year visa.
Again, it is essential to remember that direct sales negotiations with end customers must not be part of the scope of an IBC. Nevertheless, it still can become very beneficial to the sales efforts to set up that kind of "bridgehead" in Thailand.
The IBC may also carry out installation, repair, and maintenance for the parent company's products. However, these services may not be commissioned and paid for by the Thai customer, but only by the parent company.
The IBC requires an investment of about 1 Million THB and a paid-up capital of the Company Limited of 10 Million THB. At least 10 qualified and knowledgeable employees must be hired for the services to be provided.
Without Sanet's excellent networking with local authorities, banks, suppliers and industrial parks, SGF would not have experienced such a smooth project flow of our foreign Direct Investment in Thailand.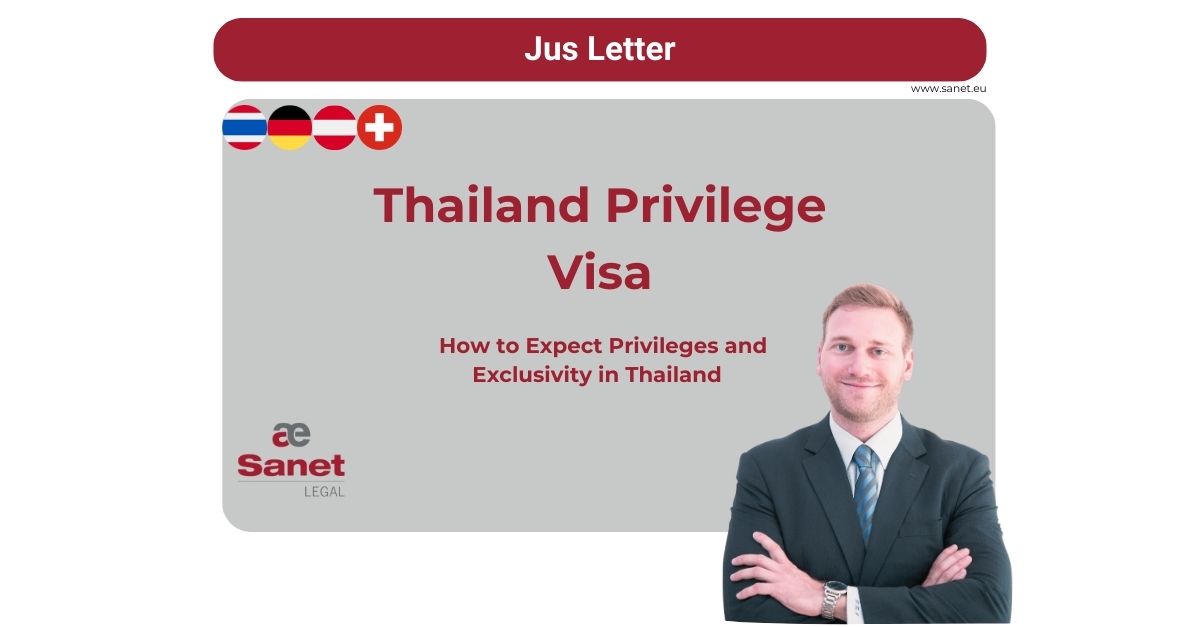 If you are looking for the right visa for a long-term stay in Thailand, you will probably come across the Thailand Privilege Visa. The new edition of the Elite Visa...