Five reasons to celebrate
Sanet celebrates five anniversaries with a total of 190 years.
The Sanet Group had five reasons to celebrate last month: 10 years have passed since the German-Thai consultants established Sanet Trade & Services Co. Ltd. (STS) as their "second leg" at that time. Since then, two dozen well-known European manufacturers have chosen STS as their contractual local sales and technical service partner. For many of these companies, the Business Unit at Sanet was the cost-effective start to their successful development in Thailand and ASEAN.
But the managing directors and shareholders themselves also had reason to celebrate: CEO Chulalux Chinwong Denk celebrated her 50th birthday and Sanet founder Dr. Gunter Denk his 70th birthday that same month. And as "good planning" one guest described it, that the shareholders Axel M. Denk and Athaporn M. Denk also celebrated their 40th and 20th birthday respectively in the same period.
And thus, for around 70 guests, there was good reason for an informal get-together in the private surroundings of the jubilarians. In addition to friends, customers and employees, numerous "Alumni" who are now self-employed entrepreneurs or holding high-ranking positions in other companies also attended the event.
Like Sanet founder Dr. Gunter Denk emphasized at his 70th birthday, which he was also celebrating, the list of invitations was not influenced by "political correctness" or by whom "one should" invite to such occasions according to standing and title.
"By the time you're 70, or even 50, you've learned – as my wife and I have – that you simply invite the people you've enjoyed being with in the past and want to be with into the future."
Unfortunately, due to the travel restrictions of the COVID-19 crisis, he said, planning to do so on an even wider circle is very limited.
"That's why it's all the more important to my wife and me to make sure all of our guests are aware that you're invited today because of exactly who you are as both our people and our friends. It was nothing else that counted. And therefore, please consider yourselves all guests of honor!" concluded Denk, and a light-hearted celebration took its course.

Dr. Michael Pohl, export manager of the Swedish company Flexus Balasytem AB with his partner and fashion designer Mandy and Dr. Janny Jinor (left with Chulalux C. Denk) with her partner Peter from Denmark are among the close friends of the Sanet family.

Rest break with Weihenstephaner "Helles" and German food from "Restaurant 64": Häfele Manager and Chamber Chairman Volker Hellstern and his wife …… and – newly married – Christian Kistinger, Head of the Reifenhäuser Business Unit with his wife and (right) Sanet CEO Chulalux Chinwong Denk.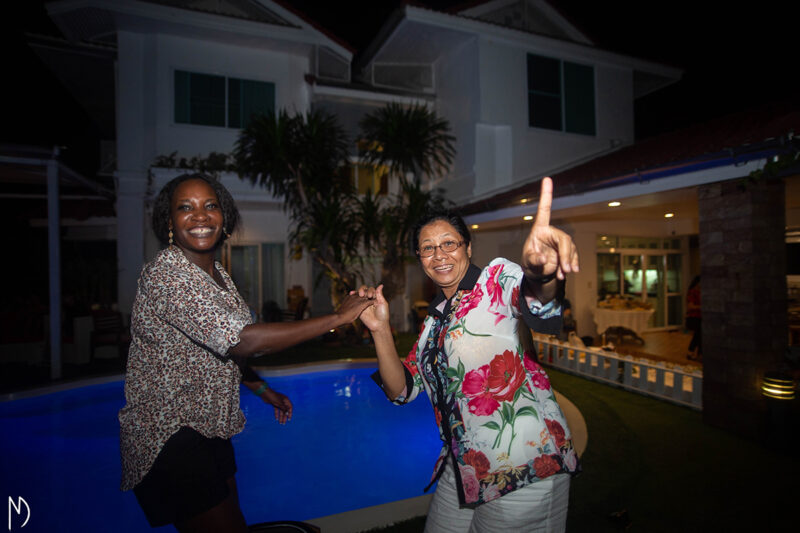 Everyone had fun in their own way at the Sanet Family's 190th Anniversaries Party.
E-Shareholder-Meetings
Sanet Legal informs
Under mandatory Thai law, shareholder meetings must generally be held on-site in the country. If, for instance, new directors are to be appointed or important sections of the Articles of Association are to be amended, such resolutions are only then valid if they are formally lawfully passed. This requires the majority of votes required for a quorum to be present or legally represented. As a general rule, Thai law does not recognize circular resolutions or voting from abroad.
With the EMERGENCY DECREE ON ELECTRONIC MEETINGS, B.E.2563 (2020) – Section 8; DBD announcement effective on 1st December 2021; NOTIFICATION OF MINISTRY OF DIGITAL ECONOMY AND SOCIETY, the Department of Business Development published regulations under which shareholder resolutions may also be passed electronically, for example by video conferencing.
The regulations contain precise guidelines on the invitation procedure, documentation, and the certified media for such electronic meetings. We strongly recommend complying with these rules, or else there is a risk that shareholder resolutions may be subsequently disputed, and corporate resolutions and business contracts may be invalidated.
On request to partner@sanet-legal.com, Sanet Legal Ltd. will be pleased to provide information on details of the regulations.
Dr. Schenk intensifies service in Thailand and ASEAN
A new Business Unit of Sanet Trade & Services. Co. Ltd.
Munich-based Dr. Schenk GmbH is undoubtedly one of the "Hidden Champions" of German "Mittelstand" for which the German economy still enjoys worldwide recognition. Dr. Schenk develops, produces, and markets optical inspection and measurement solutions for automated quality assurance and production process monitoring. This includes high-quality, customizable handling solutions.
From May 1, 2021, Dr. Schenk is now strengthening its service in Thailand and Southeast Asia in partnership with the Sanet Group. For this purpose, Sanet Trade & Service Co. Ltd. (STS) in Bangkok is setting up a Business Unit geared specifically to Dr. Schenk's systems and services, and staffed with excellently trained specialists for the German company with its over 300 employees.
Sanet is very proud to now count Dr. Schenk as one of its Principals.
Don't buy the "cat in the bag"
Sanet offers free sample of a Market Potential Analysis
Market Studies and Potential Analyses are essential groundwork for a projected market entry. However, they do cost some money. And often the entrepreneur cannot be sure in advance about what he will get for his money. Some consultants "feed" the client with Macro Data and general market figures, which are of only limited value to the individual business.
Sanet is well aware of this concern. Confidentiality, however, prevents us from passing on existing studies to third parties "just like that" as proof of quality.
This is why Sanet has compiled an anonymized Market Study that reflects the results of a very concrete assignment down to the last detail. Names and figures, however, have been modified and anonymized in a way that they do not reveal any unintended insights into the industry to third parties.
The model study may be requested by seriously interested parties in a market and potential analysis from Sanet. Against signing of a confidentiality agreement, the study may be ordered via info@sanet.eu.