---
Atmos Medical and Sanet Trade & Services cooperate for sales in Thailand
Medical Technology Market: Sales Opportunities in Thailand 
"Go where the growth is…"
… is the motto of good sales directors, regardless of whether they are working in a big corporation or an international midsize enterprise. It is not surprising to insiders that medtech in Thailand is offering very impressive sales opportunities. With a market volume of 1.6 billion Euro and a luscious growth of 10%, the Thai market for medical devices presents large sales opportunities in the long term, particularly for SMEs. This is why the Sanet Advisor Group is dedicating special attention to the field of medical technology.
Although market leaders like B Braun, Fresenius and Otto Bock have already discovered the future market potential of Southeast Asian markets such as those of Singapore, Malaysia, Thailand and the Philippines for quite some time now, an increasing number of SMEs is starting to get in on the action as well.
Thailand makes medical device industry a top priority
In the past, European SMEs have concentrated on establishing a presence in Singapore and Malaysia. The growth of the Thai market and the weakening development of the market in Malaysia, however, have changed the economic prospects for the region. More and more companies in Singapore are looking to do business in Thailand and strengthen their direct presence in Thailand's market of 65 million consumers.
With a growth prognosis of 10% and a steadily increasing demand for high-quality devices and instruments, now is the right time to secure yourself a piece of the pie. Of the many types of desired devices, cardiovascular instruments, clinical diagnostic tools, as well as devices in the branches of dermatology, neurology, surgery, ear and eye treatment, orthopedic implants, plastic surgery, physical therapy, respiration and dental care are all at the top of the list of priority devices. At the same time, Thailand is also becoming more and more attractive for investors when it comes to the medtech field. Medical devices were recently added to the list of the 10 most important industries, which should mean tax-free import for up to 10 years as well as the duty-free import of components.
Growth driven by medical strongly expanding medical tourism sector 
The main driver behind the rapidly growing demand for high-quality medical devices in Thailand is the significant expansion of the private sector, which currently comprises 300 private hospitals and 11,000 private clinics and practices. The quality of the 12,000 state-operated hospitals is also being upgraded, which could mean the creation of an enticing market with standard equipment in medical and hygienic technology. Such reliable and high-quality medical care is viewed particularly by the quickly growing middle-class of Thailand as an absolute must-have.
The medical tourism boom has also spawned more demand for high-quality devices. In 2017 alone, over 3 million medical tourists visited Thailand, and those numbers are expected to continue to climb. These growth predictions suppose an annual growth rate of around 15%  in this sector. The rising number of hospital beds which occurs as a result is estimated to hit around 8% in the private sector.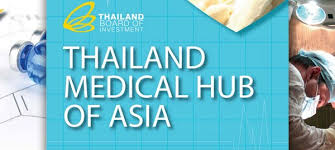 The Thai government has set itself the goal of establishing Thailand as the medical hub of Asia. As part of the economic project Thailand 4.0, the Thai Board of Investment (BOI) is providing support to foreign medtech companies in the form of numerous attractive investment incentives.
ATMOS and Sanet: Striving together for success in Thailand
The long-established company Atmos Medical, based in Lenzkirch in the Black Forest of Southern Germany, is also highly optimistic about the long-term sales potential of the Thai market. The company has been active out of Singapore for years, with extraordinary success in the region.
Starting in January 2019, they will be taking advantage of the increased importance of Thailand's market, where they will be set up in one of the Business Units at the trading house Sanet Trade & Services in Bangkok. The German-Thai trading house of the Sanet Group is committed to growing ATMOS' market position and expanding their client network by finding employees especially assigned and trained for their purposes.
ATMOS will find themselves in good company once they are settled in their Business Unit. Sanet represents a range of renowned European sector leaders in the Thai market, such as MHT Mold & Hotrunners, Tunap, Kraiburg TPE, Sames Kremlin, Vogelsang, Rutronik, Hella and Burckhardt Compressors.
Detailed market information regarding the medical device market in Thailand, more info on the Sanet business Units as well as about how to find an ideal distribution partner in Thailand can be obtained by sending an email to info@sanet.co.th.

Medtech company ATMOS from Lenzkirch (Germany) and Sanet Trade & Services: heading down the path to success together, starting in early 20
---