Business Law & Joint Venture
Business Law & Joint Venture
Again, the strength of Sanet Legal, the German speaking law firm in Thailand, is the combination of legal knowledge and entrepreneurial thinking. We are not there to place a thousand legal obstacles in your way. We are here to develop a legally sound approach to realize your business plans in Thailand.
For shareholders with unified interests, the Thai law offers a practicable sample Articles of Association, which only need to be adapted in a few details. However, the articles of association become more important when shareholders have divergent interests and – as is often the case with foreign investors – do not consist of affiliated companies and persons only.
Articles of Association become particularly important in Joint Venture companies, where the rights of the partners have to be negotiated. Here, Sanet lawyers guide through the pitfalls of the law.
Shareholders' meeting and board of directors
A Thai Company Limited must have at least three shareholders. The shareholders' meeting appoints one or more directors. At least one director must be resident in Thailand. And note: The foreign "Managing Director" who is authorized to sign must have a work permit in Thailand.
Compulsory attendance
Generally, Thai law requires the presence of shareholders in Thailand for all meetings and resolutions. Sometimes, in case of doubt, this has also been verified by checking the entry stamps of foreign shareholders.
The law also stipulates the physical presence of at least 1/3 of the board members (directors) for board decisions. Thai law does not recognize circular resolutions.
Joint venture agreements
The well-thought-out company or joint venture contract is the best guarantee to prevent conflicts within the company or to at least solve them properly and without legal proceedings.
Particularly since in Thailand foreigners are only permitted to engage in trade and services to a very limited extent and sometimes at great financial expense, a joint venture with a Thai majority is definitely worth a consideration. After all, companies with a Thai majority are not subject to any restrictions under the Foreign Business Act.
There are various legal options for the foreign partner to secure its position even as a minority shareholder. Thailand, for example, has preferential shares, in other words company shares in which voting rights and profit distribution are not identical. Strong minority rights can also be secured in the Articles of Association by means of quorums for passing certain resolutions.
The composition and signing authority of the board of directors, i.e., the management, can, for example, protect the interests of the minority shareholder through rights of proposal or even appointment. The Board of Directors' powers to act may also be limited by the Joint Venture Agreement.
Last but not least, there is also the option that both strategic partners of a Joint Venture own, for example, 48% of the shares, and a third investor, a more neutral partner, is included, who can mediate in case of conflict or also ensure the decision-making ability in more day-to-day business.
The lawyers at Sanet Legal Ltd. have decades of experience in this area of law.
Thailand permits e-meetings under strict regulations
In principle, Thai law requires shareholders to be present in Thailand for Shareholders' Meetings and resolutions. At times, this has also been subject to verification in cases of doubt by checking the entry stamps in passports of foreign members.
Under COVID-19 entry requirements, these regulations have been temporarily eased. Instead, by emergency decrees, rules for holding "e-meetings" have been established.
These include precise requirements on who is responsible for the proper invitation, on the organizational structure, as well as on the documentation of the meeting. For example, secret voting must be guaranteed, and participants must identify themselves in an adequate manner. An audio record must be kept. State EDTA Agency has approved certain online video systems for use in those meetings.
For Board Meetings, the requirement for at least 1/3 of the Board members to be physically present has also been waived. But caution: decisions by written circular are still not valid. (Documented) physical presence at a properly organized e-meeting is mandatory. In case of violations, there is the risk of resolutions of shareholders' meetings or board meetings being declared null and void retrospectively, leading to significant risks for the company and its management.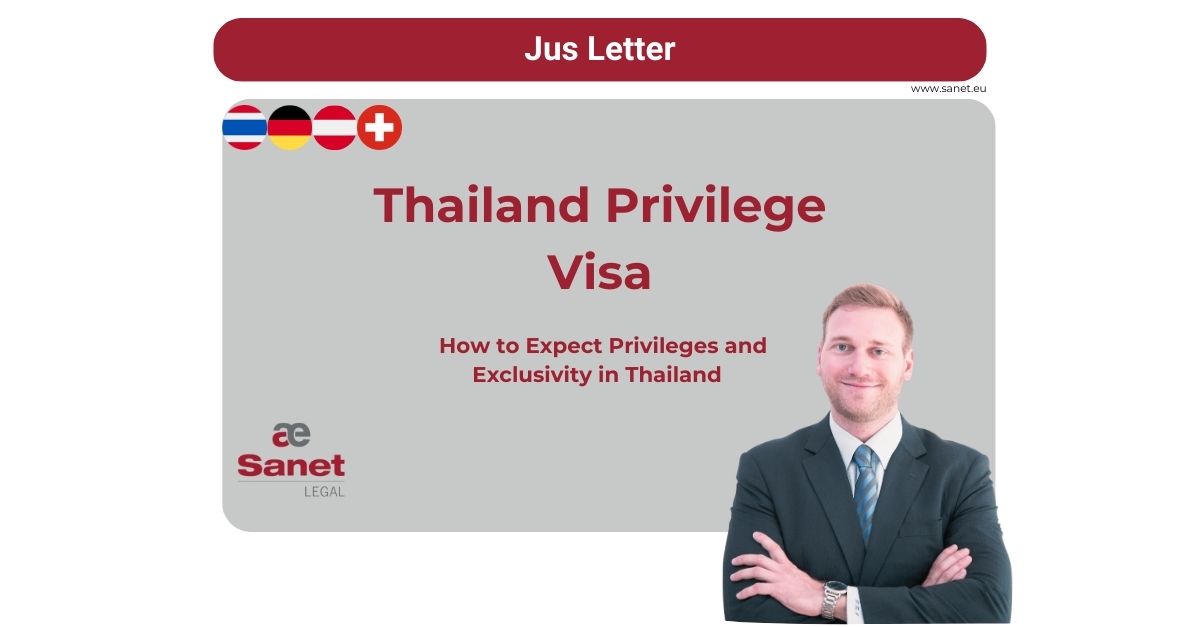 If you are looking for the right visa for a long-term stay in Thailand, you will probably come across the Thailand Privilege Visa. The new edition of the Elite Visa...